[vc_row][vc_column][vc_column_text el_class="mb-md"]
This Garage Has a Cocktail Bar In It
[/vc_column_text][vc_column_text]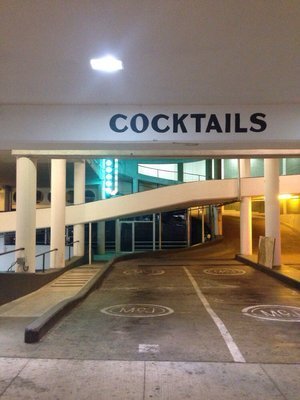 Nestled within a parking garage in downtown Austin, TX is something you won't quite expect. Past the trucks and cars is a sign that says, "Cocktails." Beyond that is a sign for Garage, one of the few bars in the world located in a parking garage.
Launched in 2014, Garage has quickly grown to become one of Austin's must-drink establishments. It's located in 6th and Colorado. We say "located in" because it is literally located within the parking garage of American National Bank. You will not be able to find this bar from the street.
The bar has a full bar and dinner menu and has been refining it since debuting. It also attracts many folks from miles around, filling up with crowds eager for fine dining as well as fine entertainment. The bar also hosts many local musicians, who bring the audience in droves.
Despite the fact that its one of the top cocktail bars in the city, make no mistake that the area is still a fully functioning bar. It is located in a former valet booth with high ceilings and mood lighting to fit the cavernous locale. Every so often, headlights from the real parking garage part will shine brightly through the entire bar. This might cause those prone to excessive celebration to cover their eyes in horrendous agony.
Since launching, the bar has made quite a splash, being located in many national outfits, such as ABCNews, Zagat, Thrillist, and more. Though the bar has indelibly made its mark on the local drinking landscape of Austin, TX, it stands out as being an accessible slice of strange. By utilizing the industrial locale and incorporating it into the very nature of the bar, it has made this cocktail stop stand out in a sea of unique uses of garages.[/vc_column_text][/vc_column][/vc_row]